Building Functional Prototypes using Node.js
Learn the basics of back-end web development as you create a simple web application server using Node.js.
What you will learn
Web server basics
HTTP and web routing
SQL basics
Database querying with SQLite
Azure deployment
Was this information useful?
Overview
This course is part of the Microsoft Professional Program in Entry-Level Software Development.

In this course, you'll learn all about back-end web development so that you can turn a basic web app prototype into something that can store live data. We'll cover the basics of Node.js so that you can write JavaScript code to build the back-end of your app, as well as the basics of SQL and SQLite to write queries to work with a database. By the end of this course, you'll have a functional web app prototype that can be accessed on the Web.
Upon completion of this course, you will be able to:
Distinguish between front-end and back-end within the context of web app development
Create a back-end web server using Node.js
Understand the uses and types of databases and DBMSs
Construct SQL queries to perform CRUD operations on a database
Deploy a web app on Azure
Was this information useful?
Before you start
Prerequisites
DEV284x
or basic knowledge of HTML and CSS
DEV279x
or an understanding of programming basics, preferably in JavaScript
Course Format
Instructor-Led: course contains assignments and exams that have specific due dates, and you complete the course within a defined time period.
Course ends: Mar 23, 2019
Was this information useful?
Meet Your Instructors
Was this information useful?
Whether you are looking to accelerate your career, earn a degree, or learn something for personal reasons,
edX has the courses for you.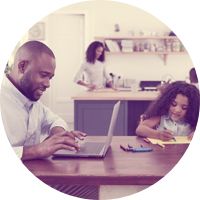 Of all edX learners:
73% are employed
Of all edX learners:
45% have children
Based on internal survey results
279,760 people
are learning on edX today