Data Analysis: Visualization and Dashboard Design
Provided by
Delft University of Technology (DelftX)
Learn how to turn raw data into visual insights using Excel to help support business decisions.
What you will learn
How to make data come to life with well-known types of visualizations such as line and bar graphs and new types of visualizations such as spark lines, contour plots and population pyramids.
How to create dashboards in Excel based on live data that can meet managerial and business needs.
How to connect data from different sources, such as the web and exports from your CRM, ERP, SAP or data warehouse.
Some hands-on data science and how to use actionable analysis tools.
Deep dive into known tools like PivotTables and introduce new ones like the analysis toolpak.
Was this information useful?
Overview
Struggling with data at work? Wasting valuable time working in multiple spreadsheets to gain an overview of your business? Find it hard to gain sharp insights from piles of data on your desktop?
If you are looking to enhance your efficiency in the office and improve your performance by making sense of data faster and smarter, then this advanced data analysis course is for you.
If you have already sharpened your spreadsheet skills in EX101x Data Analysis: Take It to the MAX(), this course will help you dig deeper. You will learn advanced techniques for robust data analysis in a business environment. This course covers the main tasks required from data analysts today, including importing, summarizing, interpreting, analyzing and visualizing data. It aims to equip you with the tools that will enable you to be an independent data analyst. Most techniques will be taught in Excel with add-ons and free tools available online. We encourage you to use your own data in this course but if not available, the course team can provide.
This course is part of the Data Analysis XSeries.
LICENSE
The course materials of this course are Copyright Delft University of Technology and are licensed under a Creative Commons Attribution-NonCommercial-ShareAlike (CC-BY-NC-SA) 4.0 International License.
Was this information useful?
Before you start
Prerequisites
High school basic mathematics concepts. We strongly recommend 
EX101x
 as a prerequisite for this MOOC, but learners with prior experience with spreadsheets will be able to follow the course as well.
Course Format
Instructor-Led: course contains assignments and exams that have specific due dates, and you complete the course within a defined time period.
Course ends: Mar 20, 2019
Was this information useful?
Meet Your Instructors
Was this information useful?
Whether you are looking to accelerate your career, earn a degree, or learn something for personal reasons,
edX has the courses for you.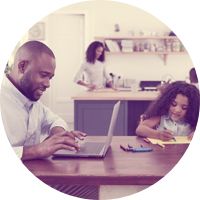 Of all edX learners:
73% are employed
Of all edX learners:
45% have children
Based on internal survey results
418,464 people
are learning on edX today