Entrepreneurship: DO Your Venture
Provided by

Indian Institute of Management Bangalore (IIMBx)
$150 USD for graded exams and assignments, plus a certificate
Learn a systematic, scientific and iterative process for identifying, evaluating and testing entrepreneurial opportunities.
Before you start
Prerequisites
Open to all educational and professional backgrounds! All you need is an access to a broadband connection and/ or a smartphone!
What you will learn
How to integrate a strong action philosophy in developing entrepreneurial ideas, focusing around the "DO Your Venture" ideology
Common paths taken by successful entrepreneurs
Pre-venture idea creation and evaluation
How to rapidly develop and test ideas by gathering quick customer feedback
Tools to successfully launch your venture including Lean Canvas
WEEK 1 covers the DO YOUR VENTURE course philosophy as well as introduces some common paths that entrepreneurs take towards finally launching their venture. This first week also addresses some of the common misconceptions about being an entrepreneur. WEEK 2 focuses on the theme of IDEA GENERATION and serves as an introduction to some quick tools and techniques that can be leveraged by anyone to generate a portfolio of ideas to choose from. WEEK 3 takes the next step and introduces ways and means of EVALUATING IDEAS generated during week 2. This essentially would entail literally going out on the road, meeting a lot of people and field testing your ideas by seeking feedback. WEEK 4 shall be invested in understanding the LEAN CANVAS model which shall help take your idea to the next level and help you build your venture from this first baby step that you have taken towards DOING YOUR VENTURE. This week will also help you understand the importance of getting feedback from customers. By interacting with about 20 customers, you would be able to better understand the venture idea from the perspective of a paying customer. Finally, WEEK 5 we will introduce you to the philosophy of EFFECTUATION and the various principles that drive Effectual Entrepreneurship. These are principles distilled by Prof Sarasavathy from her many detailed conversations with expert entrepreneurs who have at least 15 years of entrepreneurship experience. These principles in many ways are simple thumb rules that expert entrepreneurs follow and those from which we all can learn.
Overview
Are you a student, professional, educator, home-maker or someone who dreams of someday starting your own venture?
This hands-on, action oriented business and management course will introduce you to a systematic, scientific and an easy process of testing your ideas and opportunities you envision.
You will learn the "DO your Venture" ideology, which will teach you common paths entrepreneurs take when launching their own venture. You will also learn the tools and techniques for generating ideas and then test your ideas in the field and gather feedback.
The course will end with a focus on the Lean Canvas business model and effectuation, which is a set of decision-making principles expert entrepreneurs use in situations of uncertainty.
Meet your instructors
Whether you are looking to accelerate your career, earn a degree, or learn something for personal reasons,

edX has the courses for you.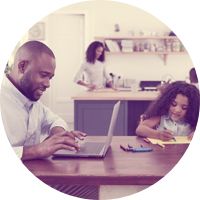 Based on internal survey results
396,338

people

are learning on edX today