Enterprise Security Fundamentals
This course provides insight into security practices to improve the security posture of an organization.
What you will learn
After completing this course, students will be able to:
Describe the current enterprise security landscape
Define the Assume Compromise approach
Practice Red team versus Blue team exercises
Develop organizational security preparation, processes, and responses
Was this information useful?
Overview
This course is part of the
Microsoft Professional Program in Cybersecurity
.
According to the Wall Street Journal, "All IT Jobs Are Cybersecurity Jobs Now."
In this course, we examine the concept of Red team – Blue team security professionals. You will practice Red team versus Blue team exercises, where one group of security pros--the red team--attacks some part or parts of a company's security infrastructure, and an opposing group--the blue team--defends against the attack. Both teams work to strengthen a company's defenses.
You'll learn how both the red and blue teams help the business attain a higher level of security, something the security industry is now calling the Purple team.
Was this information useful?
Before you start
Prerequisites
A understanding of the current cybersecurity ecosystem.
Course Format
Instructor-Led: course contains assignments and exams that have specific due dates, and you complete the course within a defined time period.
Course ends: Mar 23, 2019
Was this information useful?
Meet Your Instructors
Was this information useful?
Who can take this course?
Unfortunately, learners from one or more of the following countries or regions will not be able to register for this course: Iran, Cuba and the Crimea region of Ukraine. While edX has sought licenses from the U.S. Office of Foreign Assets Control (OFAC) to offer our courses to learners in these countries and regions, the licenses we have received are not broad enough to allow us to offer this course in all locations. EdX truly regrets that U.S. sanctions prevent us from offering all of our courses to everyone, no matter where they live.
Whether you are looking to accelerate your career, earn a degree, or learn something for personal reasons,
edX has the courses for you.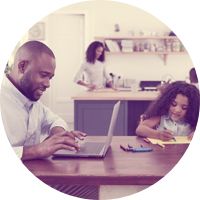 Of all edX learners:
73% are employed
Of all edX learners:
45% have children
Based on internal survey results
300,805 people
are learning on edX today