Evidence-Based Business Communication
Provided by
Australian National University (ANUx)
Learn how to achieve effective communication by evaluating evidence to identify and support the best communications strategies for your business.
What you will learn
At the end of the course, students will be able to:
Determine stakeholder interests and requirements.
Employ evidence-based decision making to determine appropriate methods of communicating to stakeholders.
Was this information useful?
Overview
There is no shortage of advice on how to communicate, but knowing which advice to pay attention to, and how to apply the right communication strategy to achieve a given objective, or even to avoid making things worse, is not easy.
Evidence-based business communication focuses on evaluating the evidence in support of different communication strategies, and guiding managers to identify the best strategy for different communication objectives. Using the evidence-based management (EBM) framework, this communications course provides learners with the tools to evaluate the quality of their communication efforts.
The communications skills developed in this course are particularly valuable for those interested in pursuing a marketing or communications role, marcomms professionals emerging leaders, established managers, and entrepreneurs.
This course is part of the Evidence-Based Management MicroMasters Program.
Was this information useful?
Before you start
Prerequisites
Students are required to have completed
EBM01x
. This course is a graduate level course that assumes an undergraduate degree level understanding in a non-cognate area.
Course Format
Instructor-Led: course contains assignments and exams that have specific due dates, and you complete the course within a defined time period.
Course ends: Mar 20, 2019
Was this information useful?
Meet Your Instructors
Was this information useful?
Who can take this course?
Unfortunately, learners from one or more of the following countries or regions will not be able to register for this course: Iran, Cuba and the Crimea region of Ukraine. While edX has sought licenses from the U.S. Office of Foreign Assets Control (OFAC) to offer our courses to learners in these countries and regions, the licenses we have received are not broad enough to allow us to offer this course in all locations. EdX truly regrets that U.S. sanctions prevent us from offering all of our courses to everyone, no matter where they live.
Whether you are looking to accelerate your career, earn a degree, or learn something for personal reasons,
edX has the courses for you.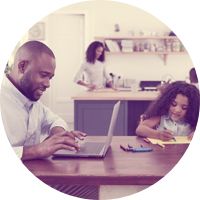 Of all edX learners:
73% are employed
Of all edX learners:
45% have children
Based on internal survey results
403,318 people
are learning on edX today