Marketing Analytics: Price and Promotion Analytics
Provided by
University of California, Berkeley (BerkeleyX)
Learn how to use price and promotion analytics to effectively allocate your marketing budget to maximize profits.
What you will learn
Price Analytics
Promotion Analytics
How to allocate marketing budgets over multiple campaigns
Exclusive Content for Verified Learners:

Exclusive how-to videos on applying the R programming language to analytics. Many companies, such as Facebook and Google, use R for analytics, so it is a language you need to know.
Exclusive discussions just for verified learners on the use of R in analytics.
Was this information useful?
Overview
In this marketing course, you will learn how to price your offerings, as well as how to allocate your scarce marketing budget among different promotion vehicles to maximize their overall impact in the organization.
You will also learn how to select prices to maximize profits or fulfill other specific company objectives.
This course is taught by Stephan Sorger who has held leadership roles in marketing and product development at companies such as Oracle, 3Com and NASA. He has also taught for over a decade at UC Berkeley Extension and is the author of two widely adopted marketing textbooks.
This course will equip you with the knowledge and skills necessary to immediately see practical benefits in the workplace. Analytics-based marketing is increasingly important in determining a company's spending and ROI. Many entry-level positions in marketing now require some basic level of knowledge in this rapidly growing field.
Was this information useful?
Before you start
Prerequisites
Familiarity with marketing and basic operations in Microsoft Excel preferred, but not required.
Course Format
Instructor-Led: course contains assignments and exams that have specific due dates, and you complete the course within a defined time period.
Course ends: Mar 20, 2019
Was this information useful?
Meet Your Instructors
Was this information useful?
Who can take this course?
Unfortunately, learners from one or more of the following countries or regions will not be able to register for this course: Iran, Cuba and the Crimea region of Ukraine. While edX has sought licenses from the U.S. Office of Foreign Assets Control (OFAC) to offer our courses to learners in these countries and regions, the licenses we have received are not broad enough to allow us to offer this course in all locations. EdX truly regrets that U.S. sanctions prevent us from offering all of our courses to everyone, no matter where they live.
Whether you are looking to accelerate your career, earn a degree, or learn something for personal reasons,
edX has the courses for you.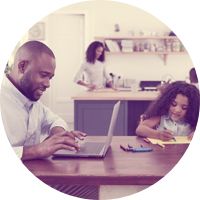 Of all edX learners:
73% are employed
Of all edX learners:
45% have children
Based on internal survey results
419,463 people
are learning on edX today