Introduction to Analytics Modeling
Ofrecido por

The Georgia Institute of Technology (GTx)
$500 USD para certificados de finalización
Learn essential analytics models and methods and how to appropriately apply them, using tools such as R, to retrieve desired insights.
Antes de comenzar
Pre-requisitos
Probability and statistics
Basic programming proficiency
Linear algebra
Basic calculus
Lo que aprenderás
Fundamental analytics models and methods
How to use analytics software, including R, to implement various types of models
Understanding of when to apply specific analytics models
Información general
Analytical models are key to understanding data, generating predictions, and making business decisions. Without models it's nearly impossible to gain insights from data. In modeling, it's essential to understand how to choose the right data sets, algorithms, techniques and formats to solve a particular business problem.
In this course, part of the Analytics: Essential Tools and Methods MicroMasters program, you'll gain an intuitive understanding of fundamental models and methods of analytics and practice how to implement them using common industry tools like R.
You'll learn about analytics modeling and how to choose the right approach from among the wide range of options in your toolbox.
You will learn how to use statistical models and machine learning as well as models for:
classification;
clustering;
change detection;
data smoothing;
validation;
prediction;
optimization;
experimentation;
decision making.
Conoce a tus instructores
¿Quién puede hacer este curso?
Lamentablemente, las personas de uno o más de los siguientes países o regiones no podrán registrarse para este curso: Irán, Cuba y la región de Crimea en Ucrania. Si bien edX consiguió licencias de la Oficina de Control de Activos Extranjeros de los EE. UU. (U.S. Office of Foreign Assets Control, OFAC) para ofrecer nuestros cursos a personas en estos países y regiones, las licencias que hemos recibido no son lo suficientemente amplias como para permitirnos dictar este curso en todas las ubicaciones. edX lamenta profundamente que las sanciones estadounidenses impidan que ofrezcamos todos nuestros cursos a cualquier persona, sin importar dónde viva.
¿Quieres avanzar en tu carrera profesional, obtener un título o aprender algo por motivos personales?

edX tiene los cursos que necesitas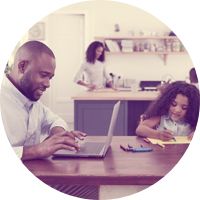 Del total de los estudiantes de edX:
Del total de los estudiantes de edX:
Según los resultados de encuestas internas
390,659

personas

están aprendiendo hoy en edX