Design Thinking: Ideation, Iteration and Communication
Provided by
Rochester Institute of Technology (RITx)
Learn how ideas transform into solutions through iteration and validation along with best practices for communicating your solution to stakeholders.
What you will learn
Discuss visualization techniques
Ideation techniques to help arrive at the best solution
How to select an appropriate visualization technique to present a solution
Best practices for communicating ideas effectively using graphic techniques
Was this information useful?
Overview
Designing a successful and innovative solution requires creative ideas and their iteration. As critical phases of the design thinking process, ideation and iteration are often what distinguish design thinking from traditional or linear problem-solving approaches. This course, part of the Design Thinking MicroMasters program, will explain and provide context and instruction on essential ideation techniques such as:
Brainstorming
Mind mapping
Role playing
Storyboarding
Concept sketching
Model making
Strategic idea mapping
After ideation, the solution(s) that best address the original problem are chosen to present. This course will discuss best practices for selecting solutions and common pitfalls to avoid when communicating solutions to a client.
Was this information useful?
Before you start
Prerequisites
Successful completion of THINK501x, THINK502x
Course Format
Instructor-Led: course contains assignments and exams that have specific due dates, and you complete the course within a defined time period.
Course ends: Mar 20, 2019
Was this information useful?
Meet Your Instructors
Was this information useful?
Who can take this course?
Unfortunately, learners from one or more of the following countries or regions will not be able to register for this course: Iran, Cuba and the Crimea region of Ukraine. While edX has sought licenses from the U.S. Office of Foreign Assets Control (OFAC) to offer our courses to learners in these countries and regions, the licenses we have received are not broad enough to allow us to offer this course in all locations. EdX truly regrets that U.S. sanctions prevent us from offering all of our courses to everyone, no matter where they live.
Whether you are looking to accelerate your career, earn a degree, or learn something for personal reasons,
edX has the courses for you.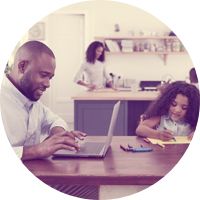 Of all edX learners:
73% are employed
Of all edX learners:
45% have children
Based on internal survey results
392,398 people
are learning on edX today