Fundamentos TIC para profesionales de negocios: Hardware
Provided by

Universitat Politècnica de Valencia (UPValenciaX)
$75 USD for graded exams and assignments, plus a certificate
¿Tienes que trabajar con las Tecnologías de la Información y te faltan conocimientos? Aprende las bases hardware de los Sistemas de Información y las Redes de Comunicaciones.
Before you start
Prerequisites
Conocimientos básicos de internet y ordenadores. Se asumen conocimientos de matemáticas a nivel de bachillerato.
What you will learn
Aprenderás sobre:
Funciones llevadas a cabo por el hardware del ordenador, el de comunicaciones y el de red
Arquitecturas cliente/servidor
Dispositivos de comunicaciones inalámbricas (móvil, satélite, GPS)
Representación digital de la información (texto, números, multimedia) y uso del sistema binario
Arquitecturas de red de área local y empresarial
Overview
Este curso forma parte de una serie de 5 cursos de introducción al uso de sistemas de información en las empresas que te introducirá en el apasionante mundo de las TIC.
La serie de cursos está pensada para que un profesional de un campo ajeno a las tecnologías de la información (financiero, administrativo o gerencial) adquiera los conocimientos básicos en Tecnologías de la Información necesarios para poder relacionarse de forma más provechosa con los especialistas en informática y telecomunicaciones de su empresa u otras corporaciones con las que tenga relación, siendo capaz de especificar requerimientos, evaluar cargas de trabajo y supervisar resultados de forma mucho más efectiva.
En este curso aprenderás los conceptos básicos hardware en los que se basan los sistemas de información y las redes de comunicaciones. Veremos los distintos componentes de un ordenador personal (CPU, memoria, placa base, discos duros) y sus periféricos, las bases del sistema binario y cómo está codificada la información en los sistemas informáticos, las bases de las redes de comunicación electrónica y los distintos equipos y estándares utilizados en las redes cableadas e inalámbricas.
Al completar la serie de 5 cursos, estarás preparado para relacionarte de forma eficaz con los especialistas del sector de las Tecnologías de la Información.
Meet your instructors
Whether you are looking to accelerate your career, earn a degree, or learn something for personal reasons,

edX has the courses for you.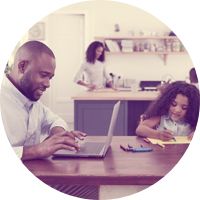 Based on internal survey results
420,015

people

are learning on edX today