Jugando con Android: aprende a programar tu primera app
Provided by
Universidad Autónoma de Madrid (UAMx)
Aprende a programar en Android a través de la implementación paso a paso de un juego interactivo.
What you will learn
Crear un juego en Android:
Entender los fundamentos de la programación en Android;
Saber utilizar los principales elementos de Android en una aplicación.
Was this information useful?
Overview
Según datos publicados por Gartner a nivel mundial, casi el 60% de los teléfonos vendidos en 2013 fueron teléfonos inteligentes. Alrededor del 80% de estos teléfonos llevaban en su interior el sistema operativo Android. No cabe duda, por lo tanto, de que formarse en Android es una de las mejores inversiones que puede hacer un programador en la actualidad.
Como cabría esperar, escribir aplicaciones para dispositivos móviles no es lo mismo que hacerlo para ordenadores de sobremesa. Las aplicaciones móviles deben ser capaces de ejecutarse en un rango enorme de dispositivos, no solo teléfonos, sino también relojes, pulseras, coches y televisores. Android da una respuesta satisfactoria a estos desafíos en código abierto y recientemente ha añadido plataformas como Android Wear, Android TV y Android Auto, que abren una nueva frontera de desarrollo.
El objetivo de este curso es que los estudiantes aprendan los fundamentos de la programación en Android mediante el desarrollo paso a paso de una aplicación. Al finalizar el curso cada estudiante habrá completado un pequeño juego casi sin darse cuenta, adquiriendo los conocimientos necesarios para utilizar los principales elementos de Android como son las actividades, los ficheros de diseño, las intenciones, los fragmentos, los menús, los diálogos, las preferencias, etc.
Esperamos que disfrutes del curso.
Was this information useful?
Before you start
Prerequisites
Es recomendable tener conocimientos de programación orientada a objetos y del lenguaje de programación Java para sacar el mayor partido posible a este curso.
Course Format
Instructor-Led: course contains assignments and exams that have specific due dates, and you complete the course within a defined time period.
Course ends: Mar 23, 2019
Was this information useful?
Meet Your Instructors
Was this information useful?
Whether you are looking to accelerate your career, earn a degree, or learn something for personal reasons,
edX has the courses for you.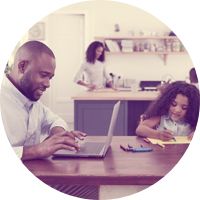 Of all edX learners:
73% are employed
Of all edX learners:
45% have children
Based on internal survey results
292,935 people
are learning on edX today