Network Security
Provided by

Rochester Institute of Technology (RITx)
10–12 hours
per week, for 8 weeks
$150 USD for graded exams and assignments, plus a certificate
Learn the process of network security, including intrusion detection, evidence collection, network auditing, and contingency planning against attacks.
Before you start
Prerequisites
Course opens: Aug 6, 2019
What you will learn
How to identify when attacks are happening inside networks
How to collect evidence of network intrusions
How to test networks and systems for vulnerabilities
How to prepare for and defend against network attacks
Unit 1: Packet Sniffing

Unit 2: Password Cracking

Unit 3: Port Scanning

Unit 4: Exploits and Exploiting

Unit 5: Access Control Lists

Unit 6: Snort

Unit 7: DHCP, DNS, and Switch Attacks and Mitigations

Unit 8: Man in The Middle Attacks and Mitigations
Overview
In this course, you will examine the various areas of network security including intrusion detection, evidence collection and defense against cyber attacks.
The issues and facilities available to both the intruder and data network administrator will also be examined to illustrate their effect.
You will learn the principles and concepts of wired and wireless data network security. You will be guided through a series of laboratories and experiments in order to explore various mechanisms for securing data networks including physical layer mechanisms, filters, applications and encryption.
You will analyze attack/defend scenarios and determine the effectiveness of particular defense deployments against attacks.
This course is a part of the RITx Cybersecurity MicroMasters Program.
Meet your instructors
Who can take this course?
Unfortunately, learners from one or more of the following countries or regions will not be able to register for this course: Iran, Cuba and the Crimea region of Ukraine. While edX has sought licenses from the U.S. Office of Foreign Assets Control (OFAC) to offer our courses to learners in these countries and regions, the licenses we have received are not broad enough to allow us to offer this course in all locations. EdX truly regrets that U.S. sanctions prevent us from offering all of our courses to everyone, no matter where they live.
RITx's Cybersecurity MicroMasters® Program
Earn a MicroMasters® Program Certificate in 1 year if courses are taken one at a time.
View the program
80–96 hours of effort

Learn cybersecurity fundamentals, including how to detect threats, protect systems and networks, and anticipate potential cyber attacks.

80–96 hours of effort

Learn the process, techniques and tools for performing a digital forensics investigation to obtain data related to computer crimes.

80–96 hours of effort

Learn key principles of risk analysis, risk assessment and risk mitigation for information security using both qualitative and quantitative methodologies.

80–96 hours of effort

Demonstrate the knowledge and skills acquired in the Cybersecurity MicroMasters Program.
Whether you are looking to accelerate your career, earn a degree, or learn something for personal reasons,

edX has the courses for you.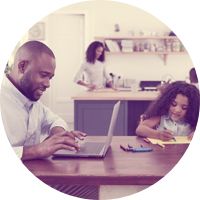 Based on internal survey results
447,651

people

are learning on edX today