IoT Networks and Protocols
Provided by

Curtin University (CurtinX)
4–6 hours
per week, for 5 weeks
$149 USD for graded exams and assignments, plus a certificate
Learn about IoT networks and the protocols and standards associated with the Internet and how these apply to the IoT.
Before you start
Prerequisites
None
Course opens: Jun 17, 2019
Course ends: Dec 15, 2019
What you will learn
Understand the component parts of an IoT network and its connections
Evaluate different infrastructure components and network systems
Analyse protocols and determine best fit for different IoT applications
Design the basic network for your own IoT ideas
Overview
The Internet of Things (IoT) is expanding at a rapid rate, and it is becoming increasingly important for professionals to understand what it is, how it works, and how to harness its power to improve your business.
In this course we will focus on how the IoT works. You will learn about IoT networks and explore how 'things' connect to it, including whether the connection and processing is local (fog) or remote (cloud).
We will explore data networks, connection types, layer models and analyze IoT protocols and standards.
You'll also learn how to evaluate different infrastructure components and network systems, and how to go about designing a basic network for your own IoT ideas.
Who can take this course?
Unfortunately, learners from one or more of the following countries or regions will not be able to register for this course: Iran, Cuba and the Crimea region of Ukraine. While edX has sought licenses from the U.S. Office of Foreign Assets Control (OFAC) to offer our courses to learners in these countries and regions, the licenses we have received are not broad enough to allow us to offer this course in all locations. EdX truly regrets that U.S. sanctions prevent us from offering all of our courses to everyone, no matter where they live.
CurtinX's Internet of Things (IoT) MicroMasters® Program
Earn a MicroMasters® Program Certificate in 1 year if courses are taken one at a time.
View the program
12–18 hours of effort

Gain an understanding of what the IoT is and the requirements to design your own IoT solutions. Start developing IoT ideas in your industry.

20–30 hours of effort

Explore various IoT devices and sensor types, how they work, and how we connect them. Map out the process for developing your own IoT ideas.

IoT Networks and Protocols

20–30 hours of effort

Learn how to apply software solutions for different systems and Big Data needs to your IoT designs.

20–30 hours of effort

Learn about the security and privacy implications of the IoT and how to design a secure system.

72–96 hours of effort

Engage fully in the process of designing an IoT solution, from initial analysis of the creative idea to planning out the product, research and design, and identifying a route to market.
Whether you are looking to accelerate your career, earn a degree, or learn something for personal reasons,

edX has the courses for you.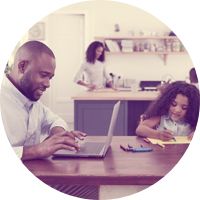 Based on internal survey results
405,272

people

are learning on edX today