IT Fundamentals for Business Professionals: Hardware
Provided by
Universitat Politècnica de Valencia (UPValenciaX)
Working with Information Technology (IT) without the necessary background? Learn the fundamentals of hardware in Information Systems
What you will learn
You will learn about:
Computer peripherals and telecommunications and network devices
Functions carried out by computer hardware, communications hardware and network hardware
Client /server architectures
Wireless communication devices (mobile, satellite, GPS)
Digital representation of information (text, numbers, multimedia) and use of the binary system
Local and Enterprise Area Network Architectures
Was this information useful?
Overview
This course is one of the 5 courses of an introductory business information systems series, designed to introduce you to the amazing world of Information Technology.
The series of courses is designed so that a professional in a field outside the information technologies (financial, administrative or managerial) acquires the basic knowledge in Information Technology to be able to interact more profitably with the computer and telecommunications specialists of your company or other corporations with which you are related, being able to specify requirements, evaluate workloads and monitor results in a much more effective way.
The syllabus of the series is based on the CLEP Information Systems and Computer Applications exam.
In this course you will learn the basic hardware concepts on which information systems and communications networks are based
By completing the series of 5 courses, you will be prepared to interact effectively with specialists in the Information Technology sector (and pass the CLEP ISCA exam if you wish).
Was this information useful?
Before you start
Prerequisites
Basic knowledge of Internet and computers.
Knowledge of mathematics at High School level is assumed.
Course Format
Instructor-Led: course contains assignments and exams that have specific due dates, and you complete the course within a defined time period.
Course ends: Mar 23, 2019
Was this information useful?
Meet Your Instructors
Was this information useful?
Whether you are looking to accelerate your career, earn a degree, or learn something for personal reasons,
edX has the courses for you.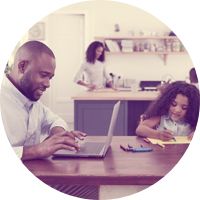 Of all edX learners:
73% are employed
Of all edX learners:
45% have children
Based on internal survey results
278,129 people
are learning on edX today